What does product compliance mean?
This term refers to compliance with minimum public law requirements, i.e. those basic requirements that make it possible for products to be placed on the market for the first time.
If you are not aware of these public law regulations in relation to your specific product or if you not comply with these minimum legal requirements for product safety (electrical, mechanical, formal labeling), chemical safety, packaging licensing, eco-design, food safety and much more, that bears a risk of an import and trade ban on the affected products, their withdrawal from the market or their recall from the end consumer, (public) product warnings, and in the worst case fines, fines or even imprisonment. Simple labeling violations are sufficient.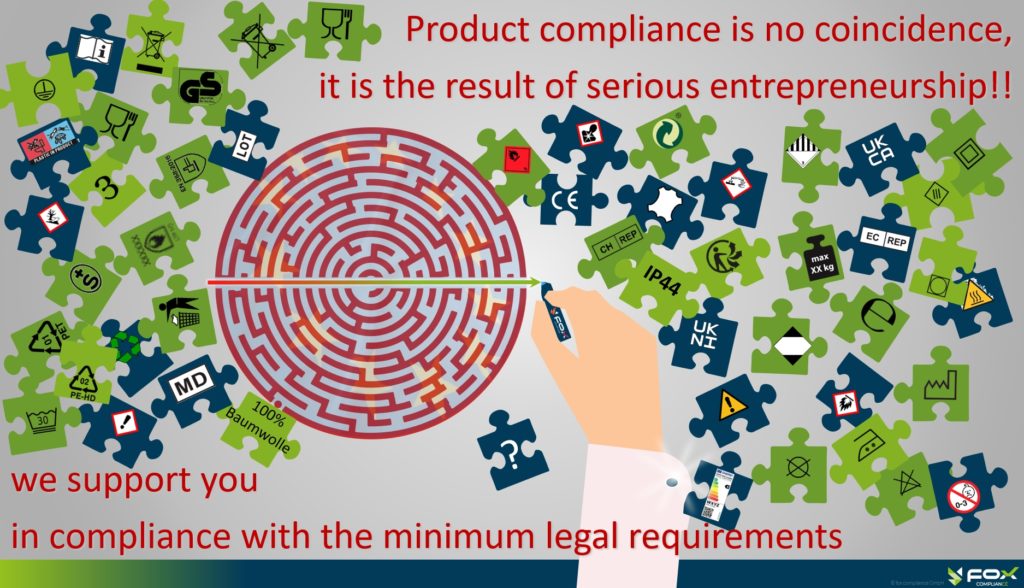 Extensive specialist knowledge and relevant experience are therefore indispensable in order to preventively counteract all-round interventions and reputational damage, including those caused by (social) media. In the worst case, there is a risk of permanent entries in the relevant European warning portals RAPEX or RASFF. These digital, public pillory have a lasting effect on future entrepreneurial activity.
In summary, Product Compliance describes all legal, i.e. formal and material, requirements that a product must comply with when it is placed on the market (first time it is made available on the market) and when it is later made available on further sales levels.
Who does product compliance affect?
Basically everyone!
"Everyone is directly or indirectly affected by product compliance. In the morning you step out of the hopefully non-carcinogenic bedding in your pajamas. You put your toothbrush in your mouth until it comes into contact with the mucous membrane, use toothpaste with various ingredients. Later, you eat your breakfast and drink from what are believed to be food-safe materials. During the day you wear textiles and jewelry that should be free of harmful chemicals. You buy items and dispose of their packaging in dual systems, expectantly use apparently safe electronic, chemical or mechanical products."

Sebastian Jockusch
All of this is product compliance and each of us is in contact with it every day at all times, whether we like it or not. In doing so, one trusts intuitively in the safe products. But are they really as safe as is often suggested?
Public regulatory law is primarily aimed at minimizing risks to life and limb, body and health and other protected assets (e.g. the environment, animals, property) for the user or third parties.
Preventive compliance with the relevant legal minimum requirements is addressed to those economic actors who place products on the market under their responsibility (manufacture or import them) or subsequently make them available on the market (trade with them). Making them available to the market for the first time means that they are commercializing the items to others for the first time. This can also be done free of charge as donations or gifts.
The legislature is uncompromising: countless national, European and international regulations regulate and enable market access for products.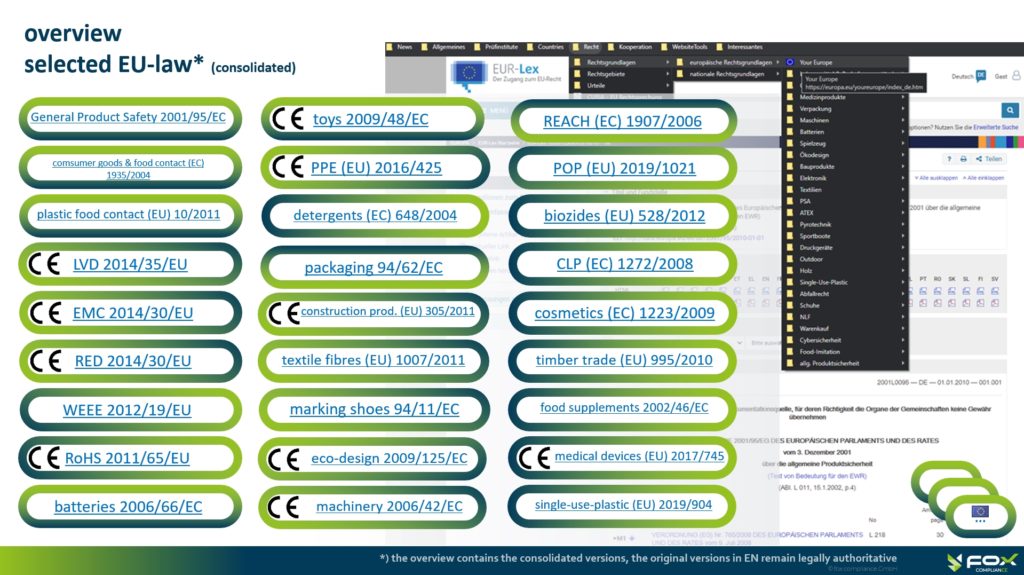 Who controls the requirements?
Compliance with these relevant rules is then checked by the market surveillance authorities.
This can already lead to obstacles and problems with customs during the import process. In the worst case, this ends in the final rejection of the entire delivery at the external border with the EU. In an article here in the blog of our trustworthy cooperation partner Zollcoaching GmbH fox compliance GmbH has presented which important EU rules of product compliance must be observed so that goods can be brought through customs without complications and which challenges arise here.
But even within the harmonized goods market of the EU, products are controlled more and more closely.
Not only do the respective market supervisory authorities ensure a high level of control pressure (in Germany alone there are around 2000 different local and factually responsible authorities), but also fulfillment service providers and marketplace operators are increasingly scrutinizing their trading partners and checking compliance with the legal requirements beforehand the products are listed on your platform or in the marketplace.
With the entry into force of the new Market Surveillance Regulation (MÜ-VO) (EU) 2019/1020 (as of January 1st, 2021, in the final parts on July 16th, 2021), these actors were not only legally defined for the first time and included in the target group of obligated companies, but also the market surveillance landscape throughout the EU experienced a hitherto unknown level of harmonization. This collaborative approach enables better collaboration and leads to even more networked market surveillance actions.
What if something happens?
The case of non-compliance, i.e. non-conformity or confirmed non-compliance with the minimum legal requirements, can have significant consequences for those responsible. These then regularly meet legal entities but also their representatives, e.g. in the form of CEO's, managing directors, department heads, etc., as natural persons.
This is particularly important when the violations result in a sufficiently probable endangerment of the protected goods (life, health, environment, property, etc.), which may have already resulted in concrete damage or simply violate applicable (product) law was violated.
public law
As already outlined, there is a threat of a comprehensive range of sovereign measures by market surveillance authorities in the public sector. These can vary depending on the intensity of the case and the degree of distribution (within the EU) of the affected products. This includes in particular the following measures by the responsible authorities:
manufacturing/import ban
trade prohibition
temporary measures until compliance is established
withdrawal from the trade
recall from end user
(public) product warnings
fines (administrative offences)
fines
jail terms
First of all, it should be noted that voluntary, appropriate measures by economic actors have priority over sovereign measures by the authorities. For this reason alone, the companies affected should, in their own interest, show a certain degree of willingness to cooperate in dialogue with market surveillance authorities in order to solve cases of non-conformity of their products immediately.
liability law
In the area of product safety, the principle applies that "a person responsible from the EU must have his full address on the product; whoever is named on the product is responsible for the product". This does not mean any less that one is liable for one's products in the market. This liability for disadvantages (e.g. damage) can on the one hand be of a contractual nature, i.e. arise from a purchase contract, contract for work or warranty contract or result from the Product Liability Act, producer liability from § 823 BGB or other legal provisions.
What is common to all bases for claims relevant in the individual case is that they possibly justify a liability claim for damages.
commercial/sales law
In this area, too, deviations from the legal regulations can lead to complaints from the customer and thus to the taking back of goods in the B2B area. Customers and thus to the taking back of goods in the B2B area.
According to the literature, the absence of the CE marking in the B2C area represents a purchase defect (§ 434 Para. 1 BGB) and can trigger warranty claims by the buyer against the trade, which in turn will take recourse against the product manager.
competition law
As a "sharp sword" and effective remedy against non-compliant goods, authorized institutions (list of qualified business associations maintained by the Federal Office of Justice) under the Act Against Unfair Competition (UWG) or competitors in the context of competition law procedures (warning letters, court) can also ensure that non-compliant (non-compliant) products (must) be withdrawn from the market quickly
criminal law
The aspects of criminal law must not be ignored, especially if the offenses were committed intentionally or systematically (e.g. by failing to organize appropriate company processes).
Relevant ancillary criminal law, for example ProdSG, LFGB, ChemSanktionsV i.c.w. ChemG
criminal code (act intentionally or negligently)
environmental damage
arson
physical injury
killing
reputational damage
In addition to the legal and associated economic consequences described, the affected company or its brand is also threatened with immaterial damage.
These can have a bad effect on supplier scoring, for example, or result in negative ratings in portals or product reviews. Temporary shitstorms are just as bearable as critical media or consumer magazines / organizations. All in all, fast and transparent communication with all stakeholders – from the end consumer, affected economic actors to media representatives – has the highest priority. Only through professional processing can damage to your good reputation or that of your products be limited and subsequently restored.
Don't let it happen!
Responsibility is known to be indivisible and cannot be delegated 100% within the framework of product compliance by the managing directors of affected companies. Nevertheless, "firewalls" can be installed preventively in many places and thus the risk of having non-compliant goods in the portfolio can be significantly reduced.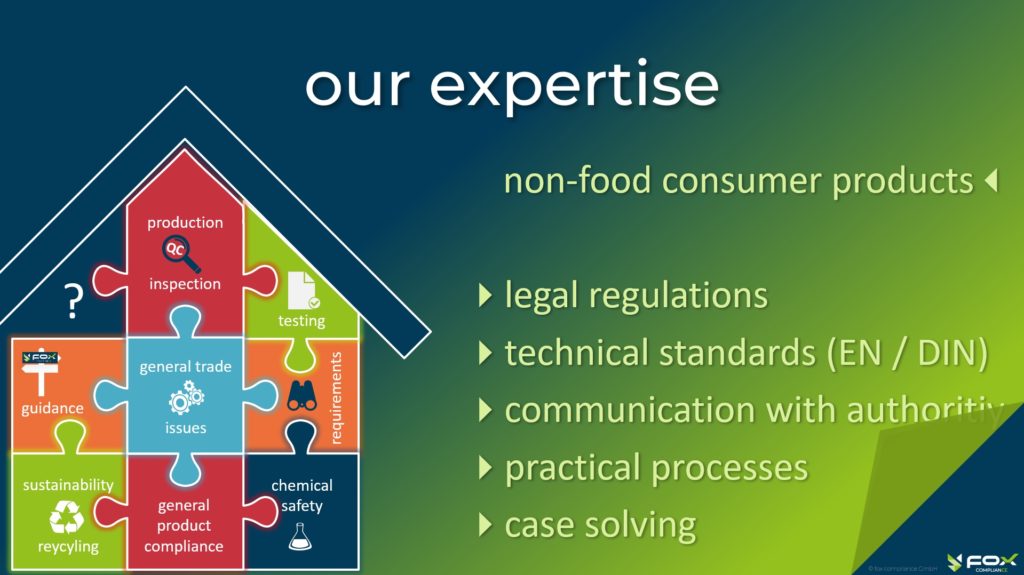 fox compliance GmbH supports you as a product manager in the area of consumer products, in particular with the following points:
practical advice on the requirements
evaluation of existing test reports
notes on missing test reports
risk assessment, due diligence system (DDS)
recommended literature + judgment database
technical papers
internal process design
development of properties in the ERP system (PIM / PCM)
project-based interim solutions
assement / mentoring
communication with authorities
mediation of specialist staff
In addition to our own expertise, we offer an extensive network of well-known experts – with together hundreds of years of practical experience – in the field of product compliance:
accredited laboratories & test centers
custom experts
extended producer responsibility (EPR)
licensing (WEEE, batteries, packaging, …)
refurbishment of defective goods
disposer
recycling-specialists
Product Compliance experts (almost all regulations)
highly specialized lawyers
contact us – we are happy to conduct a free initial consultation!